The Met Gala is known as fashion's biggest night – with celebrities converging on the Metropolitan Museum of Art to show off lavish and often eccentric outfits centered around a theme. This year's theme was Karl Lagerfeld: A Line of Beauty.
These were the top moments from the steps of the Met of Monday evening.
1. Stars dress as Lagerfeld's beloved cat Choupette
As stars began taking to the carpet, one mystery guest caught everyone's eye – because they were disguised in a large, fluffy cat costume. Inside the mascot-esque outfit was Jared Leto, known for his outrageous Met Gala costumes (like that time in 2019 when he carried a severed head on the carpet).
The cat outfit is significant because Lagerfeld, who died in 2019, was known for toting around his little white cat, Choupette. At one point, he even said he would marry his pet if it was legal, Vanity Fair reported.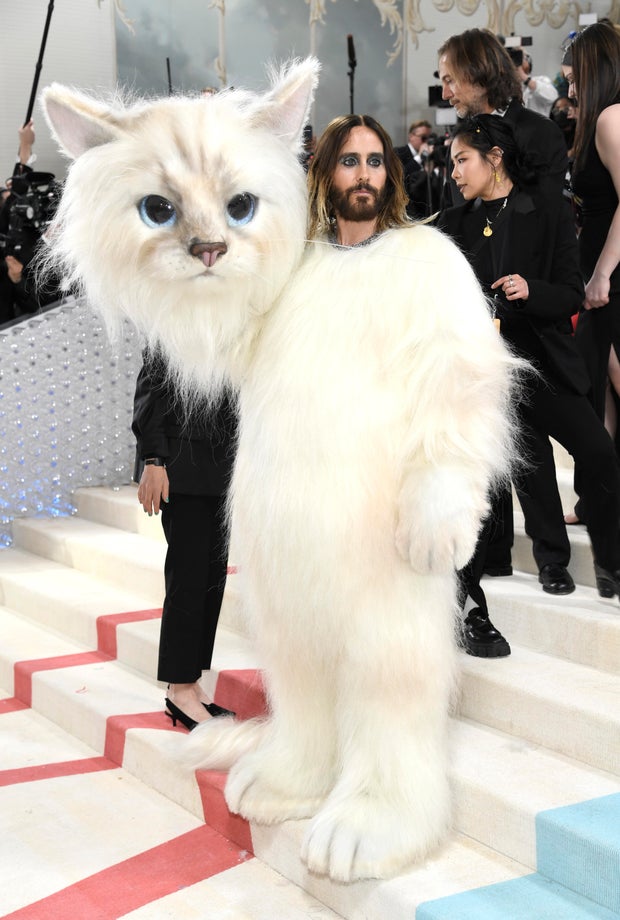 Leto didn't keep people guessing for long. The actor and Thirty Seconds to Mars band member removed the cat head to reveal it was him dressed as Choupette. He did a quick-change into a black outfit and cape.
Leto wasn't the only person to pay homage to Choupette. Doja Cat also dressed like a feline, with a cat-like prosthetic nose transforming her face. She also wore a bedazzled Oscar de la Renta gown that featured a hood with cat ears.
She stuck to the Coupette character by meowing in response to questions from Vogue correspondent Emma Chamberlin on the carpet.
Lil Nas X, who was decked out head-to-toe in silver paint and shimmering jewels, was also seen meowing at reporters.
2. Anna Wintour and Bill Nighy spark relationship rumors
Anna Wintour — the editor-in-chief of Vogue, which organizes the Met Gala — is often credited with curating the star-studded guest list for the event. This year, the often private Wintour made news herself, walking the carpet arm-in-arm with actor Bill Nighy.
But despite the public outing together, a rep for Wintour said they are not in a relationship, but are just great friends, People Magazine reported.
They were first spotted out together in Italy in 2021, sparking romance rumors, according to ET Canada. Last year, Wintour hosted a screening for the film "Living," which Nighy starred in.
3. Kim Kardashian and Pete Davidson seen chatting
Kim Kardashian and Pete Davidson, who dated for nine months between 2021 and 2022, were seen chatting inside the gala. The pair walked the carpet together at the event last year, when Kardashian made headlines for wearing a Marilyn Monroe dress that was displayed in Ripley's Believe It Or Not in Orlando.
The pair was photographed in a conversation with Usher. While the brief encounter gave fans hope for a rekindling, Kardashian made headlines with someone else before she even made it to the carpet. The mother of four exited the Ritz Carlton Hotel with her 9-year-old daughter, North West, who was decked out in a fashionable outfit of her own.
4. Stars announce pregnancies
Two stars revealed baby bumps on the carpet. Tennis superstar and business mogul Serena Williams stepped out in Gucci with her husband, Alexis Ohanian, revealing she is pregnant with their second child.
"Was so excited when Anna Wintour invited the 3 of us to the Met Gala," she wrote on Instagram. Reddit co-founder Ohanian and Williams have a 5-year-old daughter, Alexis Olympia Ohanian.
Williams spoke to LaLa Anthony on the carpet about being able to reveal her pregnancy. "I'm feeling good now, I can breathe. I'm not hiding," she said.
Supermodel Karlie Kloss, who is married to businessman and investor Joshua Kushner, brother of Jared Kushner, also revealed her baby bump. The couple have a son named Levi, born in 2021.
"This is the most important night in fashion, of course," Kloss told Entertainment Tonight about revealing her pregnancy at the event. "I'm honestly surprised I could keep it a secret this long." Kloss wore a black Loewe dress.
5. Rihanna makes fashionably late grand entrance
Rihanna already revealed her second pregnancy in an epic way – during her Super Bowl halftime performance. The star and her baby bump still made a grand entrance alongside partner A$AP Rocky.
The pair arrived late, with Rihanna in a billowing white gown by Valentino, which came with a large hood that the star later took off. She also had a pair of white sunglasses fit with long eyelashes coming out of them.
It appeared they were the only two stars left on the carpet when they arrived, but their lateness was hopefully excused. In a "73 Questions" interview for Vogue, Wintour named one person who is allowed to show up late for a Met Gala carpet: Rihanna.
Honorable mention: The cockroach
An uninvited guest also hit the carpet: a cockroach. The bug stole the show for a few minutes as cameras turned down to track it as it scurried across the carpet. To seasoned New Yorkers, the presence of a roach is not shocking – but still unwelcome.