The U.S. has labeled them a "criminal organization."
More than one year after Russia's invasion of Ukraine, the U.S. is increasingly focused on denouncing what it calls a "brutal" paramilitary group aiding Russian forces there.
And now the world is keeping a close eye on the Wagner Group after its leader threatened a rebellion against Russian leadership over the handling of the war and accused his allies of shelling his troops.
The Wagner Group is a private military organization run by an ally of Russian leader Vladimir Putin with tens of thousands of fighters, according to U.S. officials, and it has also operated in Syria and in various African countries.
Earlier this year, the U.S. labeled the group a "significant transnational criminal organization" and levied new sanctions, while human rights observers have said they suspect Wagner fighters were linked to the mass killing of people in Mali last year.
Government reports, statements from U.S. officials and insights from experts, as well as other sources, shed light on the Wagner Group's history and goals, its alleged wrongdoings and its importance to Russia — in Ukraine and elsewhere in the world.
How is the Wagner Group involved in Russia's invasion of Ukraine?
According to Catrina Doxsee, an expert on the Wagner Group from the nonprofit Center for Strategic and International Studies, Wagner was first involved in the Ukrainian-Russian conflict in 2014, when Russia illegally annexed the Crimean Peninsula.
There are an estimated 50,000 fighters from the Wagner Group in Ukraine, White House spokesman John Kirby said in January.
Around 40,000 of the fighters are believed to be convicts, according to Doxsee, which could lead to more allegations of human rights abuses. A video that has circulated online appears to show the group's leader, businessman Yevgeny Prigozhin, asking prisoners to join the Wagner Group.
"You have individuals coming in who are less experienced, less trained and who are kept in line in a much less efficient way by their commanders," Doxsee said.
Last September, a senior U.S. defense official downplayed the success of Wagner recruiting prisoners, with some felons declining to join given Ukraine's success in its counteroffensive.
Other Wagner fighters have reportedly been drawn in for financial reasons.
Satellite images have captured a Wagner burial site, illustrating the grim chances for convicted fighters on the front lines. A video from Russian media outlet RIA Novosti showed Prigozhin — who previously claimed he had no role with the group, a position he has since reversed — visiting the cemetery.
Kirby told reporters in December that Wagner has received weapons it purchased from North Korea to be used in Ukraine.
Despite what the U.S. says is the Wagner Group's significant presence in Ukraine, such mercenaries are technically illegal under Russian law and the Kremlin has long avoided discussing the use of contracted fighters.
Doxsee said Russia's purported ban on private military companies (PMC) like the Wagner Group allows the government a necessary distance from its operations.
"They are technically all operating in violation of Russian law by means of even participating in PMC activities, and ultimately in the mind of the Russian government they are more expendable," Doxsee said.
Other countries, including the U.S., heavily rely on contractors for some military duties, from logistics to training.
Who is in charge of the Wagner Group?
Dmitry Utkin, a former Russian officer, and financier Yevgeny Prigozhin started the Wagner Group, which emerged around 2014, toward the beginning of the Ukraine-Russia conflict on the Crimean Peninsula, according to reports published by the Combating Terrorism Center at West Point.
The group's moniker reportedly comes from a nickname for Utkin — or is a reference to the composer Richard Wagner, beloved by Hitler. Prigozhin is known in the West by the nickname "Putin's chef," because of how he and Russia's president met decades ago, when Prigozhin was a restauranteur.
Reports in the Combating Terrorism Center have also noted some disagreement over Wagner's operations, with some arguing it is less of a formal business entity (like American military contractors) and more of a movement.
Prigozhin denied involvement in the group until late last year when he confirmed his role, according to the Associated Press. He has since spoken repeatedly about it, CNN reported last month, casting the effort much differently than the American assessment that it is criminal.
"The fact that Prigozhin has been so open since the fall of 2022 about his connection with Wagner really indicates that he's feeling extremely confident and secure," Doxsee said.
In 2018, U.S. prosecutors charged Prigozhin for his suspected role in funding the Internet Research Agency (IRA), which the U.S. described as a Russian "troll farm" that sought to use digital campaigns to increase political and social tensions in the U.S.
The Department of Justice accused the IRA of conspiring to "defraud the United States… for the purpose of interfering with the U.S. political and electoral processes, including the presidential election of 2016."
The complaint described tactics like posing as U.S. citizens and creating false online personas.
A Kremlin spokesman at the time said the case was "absolutely unsubstantiated."
Last year, Prigozhin said on social media that "we have interfered [in elections], are interfering and will interfere," the AP reported.
Wagner's rebellion threat
On Friday evening, Prigozhin sent out an audio message warning of an armed rebellion against Russia's military leadership after accusing it of deliberately shelling his forces.
He claimed his forces would punish Russia's defense minister and chief of general staff, telling other units to stand down and not offer resistance.
"There are 25,000 of us and we are coming to sort things out. … Those who want to join us, it's time to finish with this mess," Prigozhin said.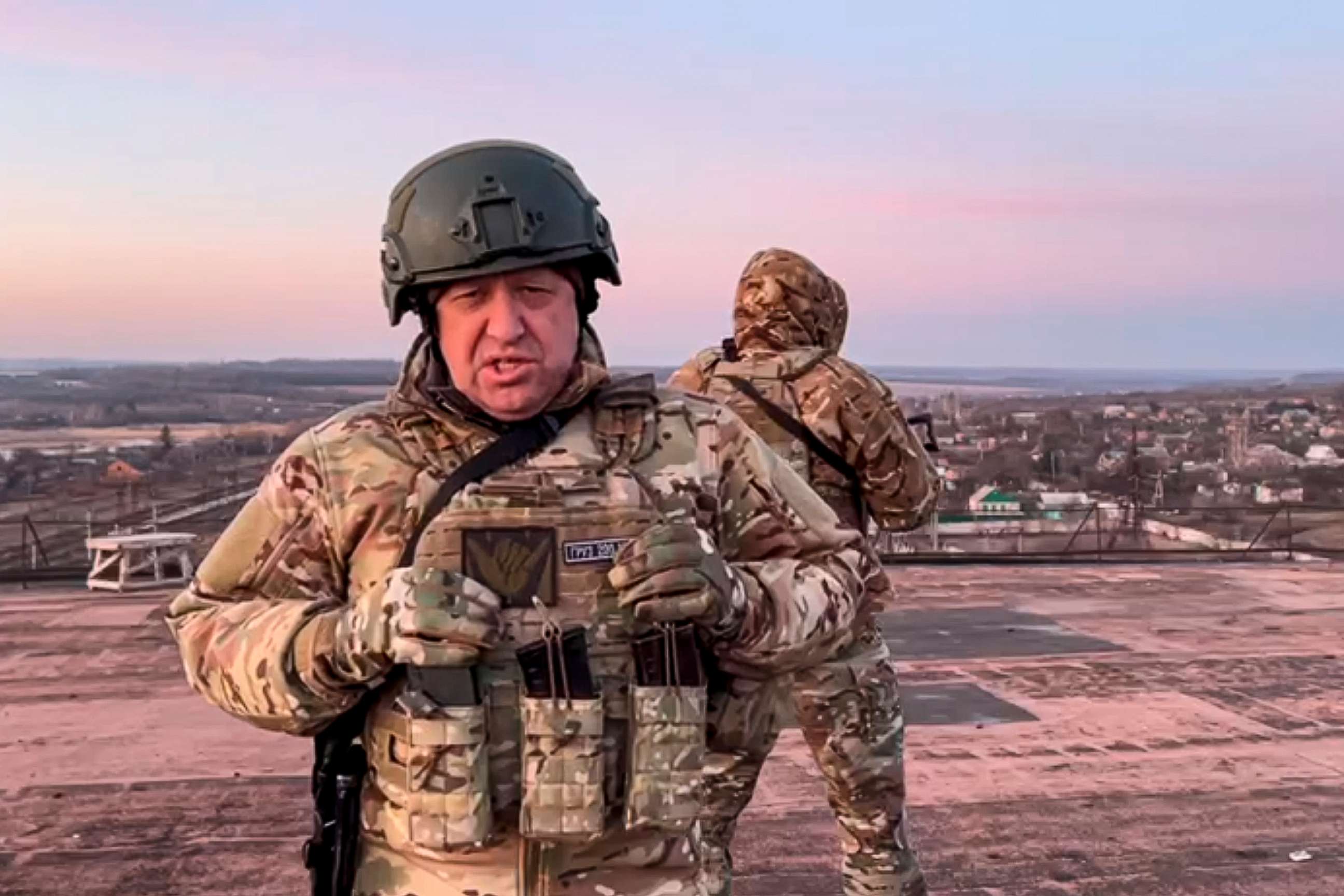 He also published a video on Friday that showed a shattered group of trees and a burning trench, claiming it was a Wagner camp shelled by Russian troops and alleging many Wagner troops were killed.
The video does not show any bodies.
Russia's Defense Ministry already denounced the video, calling it an "information provocation."
Russia's FSB opened a criminal case against Prigozhin and accused him of calling for an armed mutiny.
Prigozhin denied this is a "military coup" calling it a "march for justice."
"They neglect the lives of soldiers, they forgot the word 'justice,' and we will return it," he said in the video.
The Wagner leader posted a video earlier in the day claiming the Kremlin's justifications for its invasion of Ukraine are based on lies.
By Saturday, Prigozhin and his forces had stood down from their march to Moscow after the the neighboring country of Belarus helped broker a deal between Prigozhin and the Kremlin. The exact details of that surprising agreement remain unclear, though Prigozhin is expected to go to Belarus and neither he nor his fighters will be prosecuted, Russian officials maintain.
The aborted revolt could seriously shake Putin's longtime hold on power, according to U.S. officials.
Wagner's role in other countries
Beyond Ukraine, the Wagner Group has been active in several African and Middle Eastern countries where it has participated in regional conflicts, exploited resources and spread Russia's influence, according to the reports published by the Combating Terrorism Center at West Point.
Doxsee said that exploiting the natural resources of vulnerable nations helps the group deal with financial punishments like the U.S. sanctions.
"Wagner's ability to mine for gold and smuggle it out of the country has actually allowed Wagner and oligarchs like Prigozhin and others in Moscow to soften the blow of some of the Western sanctions," Doxsee said.
A 2020 statement from the U.S. Department of Defense said there was evidence that the Wagner Group violated a U.N. arms embargo and "laid land mines and improvised explosive devices in civilian areas in and around Tripoli, Lebanon, without regard to the safety of civilians."
The Wagner Group also moved troops to Syria in 2015 to support the Assad regime during the ongoing Syrian civil war, according to Combating Terrorism Center at West Point.
In 2021, the International Federation for Human Rights and others helped file suit against Wagner Group fighters, alleging they were responsible for a "murder committed with extreme cruelty" after a Syrian man was killed in 2017. (The status of the complaint is not clear.)
There have been additional accusations from non-governmental organizations of human rights abuses in Mali, where government forces have been working with Wagner fighters, advocates say.
"We are disturbed by the apparent increased outsourcing of traditional military functions to the so-called Wagner Group in various military operations [in Mali]," human rights observers said earlier this year in a statement released by the United Nations. They described "gross human rights abuses and possible war crimes and crimes against humanity" since 2021.
Other countries with a history of Wagner Group deployments include Mozambique and Madagascar.
Prigozhin claimed in a previous statement that the Wagner Group is essential to many African nations.
"There are presidents to whom I gave my word that I would defend them," Prigozhin said. "If I now withdraw one-hundred, two-hundred or five-hundred fighters from there, then [these countries] will simply cease to exist."
State Department Principal Deputy Spokesperson Vedant Patel, in a briefing in January, did not say whether the U.S. would take action against countries working with sanctioned people or entities like Prigozhin or the Wagner Group.
What is the U.S. response to the Wagner Group?
Kirby, the White House spokesman, said in January that "we will work relentlessly to identify, disrupt, expose and target those who are assisting Wagner."
In February, the U.S. Treasury Department sanctioned the Wagner Group and related entities, labeling them a "significant transnational criminal organization" and accusing them of human rights abuses in the Central African Republic.
In total, the U.S. Treasury sanctioned nine people and 14 entities in Russia, China, the Central African Republic and the United Arab Emirates, mostly with alleged Wagner connections. The Treasury also identified two yachts and one aircraft that are now considered blocked by the U.S. government.
Secretary of State Antony Blinken said in a statement the sanctions support "our goal to degrade Moscow's capacity to wage war against Ukraine."
Past sanctions from the Treasury Department went to Pregozhin, M Finans, Lobaye Invest, Concord Group and the Internet Research Agency.
White House National Security Council spokesperson Adam Hodge released a statement Friday evening addressing Prigozhin's call for rebellion and said the counsel is "monitoring the situation and will be consulting with allies and partners on these developments."