U.S. Secretary of State Antony Blinken spoke to ABC News as the summit began.
U.S. Secretary of State Antony Blinken said Tuesday that NATO is "stronger," "bigger" and "more united than it's ever been" with Sweden now close to becoming the alliance's 32nd member following the addition of Finland.
"That sends a very strong message to Vladimir Putin that he's not going to outlast Ukraine, he's not going to outlast NATO," Blinken told ABC News' George Stephanopoulos in an interview on "Good Morning America."
Blinken, along with U.S. President Joe Biden, is in Lithuania's capital for a two-day NATO summit that kicked off Tuesday.
On the eve of the summit in Vilnius, NATO Secretary-General Jens Stoltenberg announced that Turkish President Recep Tayyip Erdogan has agreed to send Sweden's NATO accession documents to Turkey's Parliament for approval "as soon as possible," one of the last steps in the membership process. It was unknown whether Erdogan's demands on other issues, including support from European leaders for Turkey's bid to join the European Union and for the United States to supply Turkey with F-16 fighter jets, were part of the agreement.
When asked by an ABC News reporter in Vilnius if he was surprised by the move, Biden replied: "Not at all."
Sweden and Finland, which have historically embraced neutrality, applied for NATO membership together last year as Russian forces invaded neighboring Ukraine. Finland officially joined the alliance in April following Turkish ratification, but Turkey and Hungary have yet to ratify Sweden's membership.
Ukraine is also pushing hard for NATO membership, though Biden made clear over the weekend that he doesn't believe the country is ready to join the alliance. Biden will meet with Ukrainian President Volodymyr Zelenskyy on Wednesday, marking their third face-to-face meeting this year.
When asked what kind of assurances for Ukraine might come out of the NATO summit, Blinken told ABC News: "First, a very robust package of support both political and practical for Ukraine."
"Second, when it comes to membership, I think the summit will take note of the progress that Ukraine has made, which has been significant," he added. "And at the same time, the fact that work remains to be done in terms of reforming its military and strengthening its democracy. So all of that will be coming out of the summit. But you've got a unified alliance that is going to demonstrate in very practical ways its enduring support for Ukraine, including the path to membership."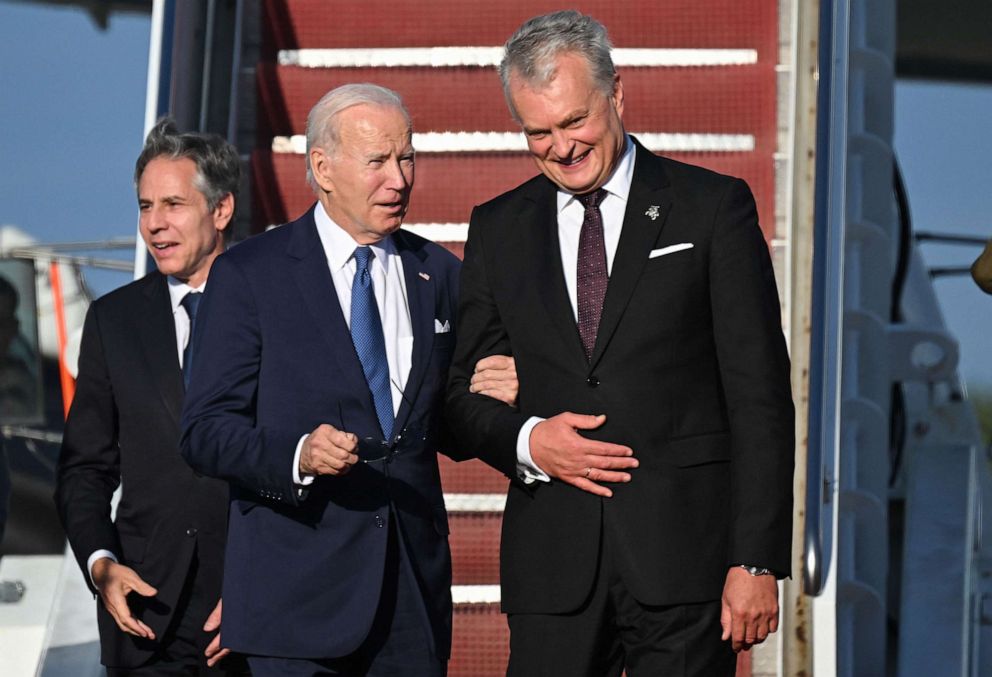 Asked whether there was concern that granting NATO membership to Ukraine would put the U.S. and its allies directly into conflict with Russia, Blinken said: "President Biden has been very clear about this and, in fact, the Ukrainians have too that in the midst of a war, you're not going to take the membership step. But at the same time, beyond that — and the Ukrainians acknowledge this as well — they still have work to do."
Ukrainian troops are currently in the "early weeks" of a counteroffensive against invading Russian forces, Blinken said, which will "play out over many more weeks and probably many more months."
"I think the Ukrainians have in hand what they need to be successful," he added. "It is tough, it's challenging, the Russians have built up very strong defenses. But at the end of the day, besides all of the support that we've provided, it really comes down to this: This is Ukraine's land. It's their territory. It's their future. It's their freedom. I think that's the biggest difference-maker and I'm convinced you're going to see that play out over the next weeks.