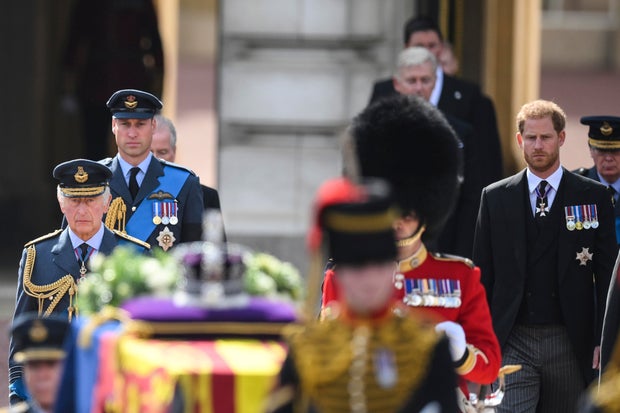 Queen Elizabeth II's coffin was processed through central London on Wednesday from Buckingham Palace to Westminster Hall, where the late monarch will lie in state for four days until her funeral on Monday.
Members of the public will be able to visit the queen's coffin at Westminster Hall to pay their respects. Crowds had already gathered early Wednesday morning to view the procession, and a line had begun to form of people waiting to file past the queen's coffin. The doors of the ancient hall on the bank of the River Thames were to open to the public from 5 p.m. local time.
On person in the crowd, Sharon Stapleton, told CBS News she had "met lots of interesting different people you wouldn't meet normally — all brought together and united in their grief for the queen, and excited about being able to go through and see her lying in state."
"It's been a long night. It's been raining, very wet, a bit cold," added Stapleton, who said she started waiting in the line at 9 p.m. Tuesday night. "But it's worth every minute of it."
The most senior members of the royal family took part in the procession — a roughly 40-minute walk — from Buckingham Palace to Westminster Hall, including the new monarch King Charles III, Princess Anne, Prince Edward and Prince Andrew. William, Prince of Wales and Harry, Duke of Sussex marched in a row behind the queen's children.
The procession included the tolling of the bells of Big Ben, the iconic clock tower in Parliament Square, and a gun salute at Hyde Park nearby.
As the procession passed, the gathered crowd broke out into applause at various points along the route.
A short service began after the coffin reached Westminster Hall, conducted by the Archbishop of Canterbury, which the royal family — including the Catherine, Princess of Wales, and Meghan, Duchess of Sussex — attended.
The coffin rests on a raised platform that will be guarded around the clock for the full four-day lying in state period by members of various British military regiments assigned to royal protection duty.